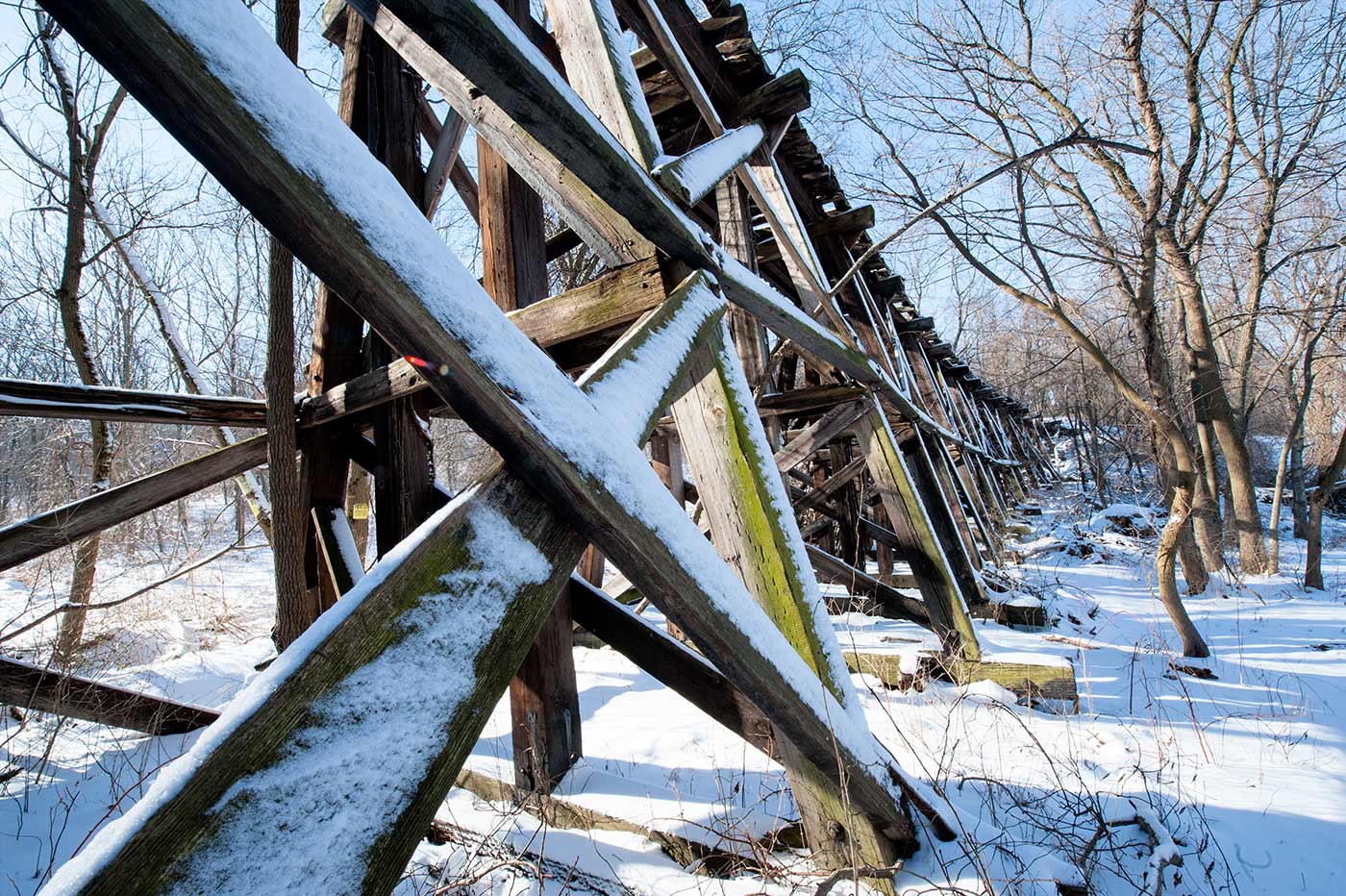 Taylor's Trestle, an old railroad bridge that was part of the old Ma & Pa Railroad is slowly going the way of the dinosaur and is deteriorating more each year.
About Taylor's Trestle
Taylor's Trestle is only a few blocks from my house and when I set out to grab a few photos of it yesterday I was hoping to capture something creative. Despite its closeness I haven't actually walked up there in about 5 years. I was surprised to see just how much it had deteriorated in that short time.
Because of that I decided to post a few photos despite their lack of creativity and artistic nature just to preserve a bit of our history while I had the chance. A few years back, perhaps 2010 or so there was an effort to restore the old trestle. There was even a website dedicated to it. taylortrestle-dot-org but the site is no longer active and I can only assume that any real interest has died down.
Sadly there isn't a great deal of information that is readily available about Taylor's Trestle now that the website is down. I do remember being surprised at how few railroad trestles here in the US were actually built on a curve. Even more so how few of those were actually still standing. Off the top of my head it was something like 35 in total though I'm probably way off the mark.
What I do know is that it was built circa 1895 and is ground built. The trestle in't not anchored or secured to the ground and has no foundation. Basically it's an old school railroad trestle. It's 261 feet long and 28 feet high at its tallest point. It was last used for passenger service in 1954 and last used for commercial service in the early 1980's. In the early 80's it was abandoned and has been left to rot every since.
American Freedom Train in Red Lion
The American Freedom Train, for those of you old enough to remember it, crossed Taylor's Trestle here in Red Lion the summer of 1976. I was actually living in Chester, VA at the time. I remember standing by the tracks waiting for it to pass when it came through there.
Anyway, there I've only been able to find two photos of the trestle when it was in better shape. One is by John W. Barriger III National Railroad Library and the other is by Kevin Mueller that is dated August 5th 1986. Kevin's photo was snapped after the trestle was active but it can be seen in much better shape than it is today. There's also another shot that with a train actually crossing the trestle and a bit more info here
I have asked both If I could link the photos here and if they agree I will do so. Until then please look at the links above to see what it looked like before it started deteriorating.
More About Local Trains
For a bit more on local trains there is the Steam Into History program in New freedom, Pennsylvania. The NCRR 17, the York, Steam Locomotive. You can read more here.
A Gallery of photos from Taylor's Trestle