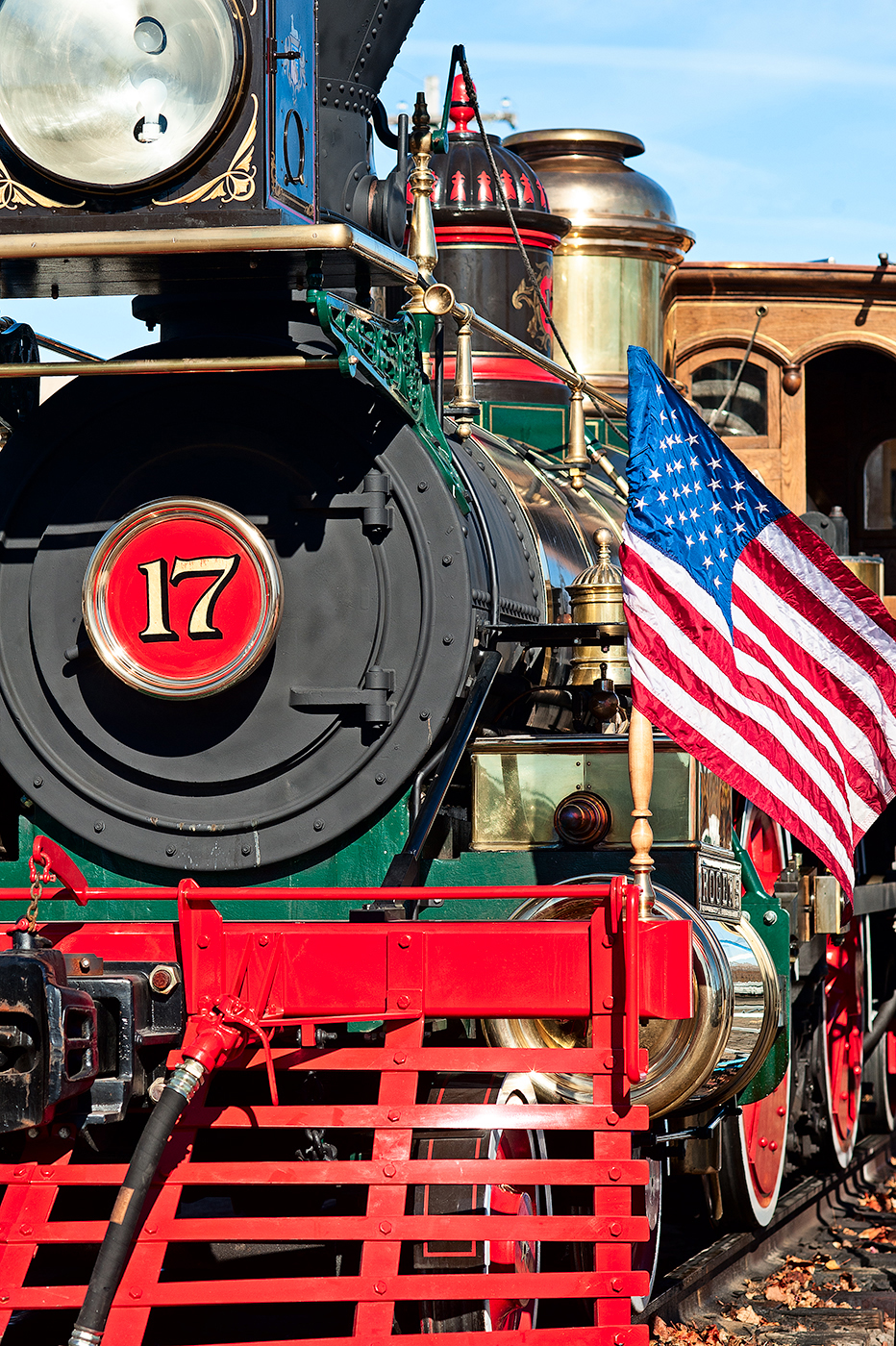 To be perfectly honest I can't think of anything about the Steam Into History program that hasn't already been written. On the other hand I didn't drive down to New Freedom, Pennsylvania and photograph the locomotive for historical or informational purposes. I went down and snapped a few shots simply because this thing is cool. I thought it would make for good photographs. It's really as simple as that. Anyway, this thing really is cool! It's painted flat black with red and green trim. It's also loaded with brass fittings, a wooden cab and authentic cars. It's very well crafted and could easily have stepped right out of the mid 19th century. Steam Into History is, without a doubt, an adequate name for this train and project.
I guess the only thing I could've asked was that the train was actually running the day I was there. I'd seen it from a distance at least once every week or two for the last few months. Every time it was always active and running. It's pretty cool when steam and smoke is coming from it. Unfortunately the only time I have never seen it not running was the other day when I actually decided to take the photographs below. What a bummer! One of these days I'm going to have to get down to Hanover Junction and photograph it as it pulls into, and leaves the historic station there.
Though I wasn't disappointed with the photos I realize that they could be so much more..so much better. Oh well, I guess that's for another day. I also need to take a ride on it as well. Perhaps I'll wait for all this cold weather that we've been getting to come to an end. I'm sure it would be much more enjoyable in the spring or summer.
Photos of the Steam Locomotive NCRR 17 "The York" at Steam into History, New Freedom, Pennsylvania
For more information on Steam into History in New Freedom, Pennsylvania check out this link to their website. You can also view a YouTube video by Dynamo Productions as The York 17 runs up and down the Rail Trail in York County, PA. below.
[button url="https://www.barrykidd.com/contact/" style="flat" background="#000000″ size="8″ center="yes" title="Let's talk about your photography needs and see how I can help you reach your goals"]Schedule An Appointment To Discuss Your Project![/button]
Follow Me on Facebook and Twitter
Be sure and follow me on

– Facebook and

– Twitter to keep up with all of my latest photos and events.