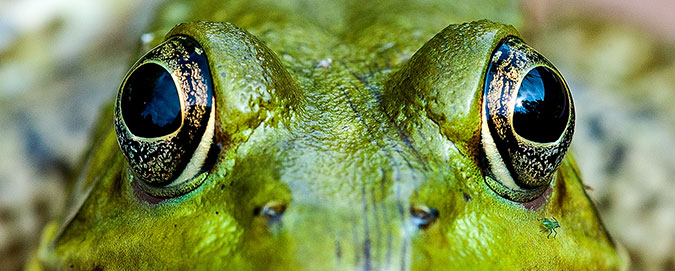 I really don't know much about frogs. In fact my only real experience with them is the many nights that my brothers and I went frog gigging when I was a boy. I can however say that they are about the stupidest creatures alive. Now, I'm sure that there are some of you out there that are true frog lovers or perhaps Dr. Egghead, the world's leading authority on frogs will disagree with me. Perhaps you will point out all the cool and intelligent things that frogs are capable of. For my part I'll continue thinking that they are just stupid!
The Camera On My Mobil Phone
Being someone who is not necessarily taken with frogs, I have discovered that they can be fascinating animals to photograph. For the most part they are rather elusive little creatures and jump away when startled. They just jump into whatever pond or creek they are near before you even see them. About a week ago I was out with my wife and saw a small bullfrog setting on a lily pad. He was just setting in a small pond.
[pullquote]
It was a scene right out of my imagination of what a frog might look like.
[/pullquote] It was a scene right out of my imagination of what a frog might look like. I decided to sneak over slowly and get as close as I could to grab a shot. I was able to get quite close and was very happy with the resulting photo. Sadly because I didn't have a decent camera handy I resorted to using the camera on my phone. Though the composition of the photo was good the quality sucked. There is no way that a phones tiny little lens can compare with good quality glass. Mot to mention a large full frame sensor.
Getting Close To Frogs
I decided to go back a week later with a better camera and a 105 MM micro lens. I wanted to do the job right. In the end I spent about 30 or 40 minutes walking around the little pond and sneaking up on various frogs. I would belly crawl up to them and get as close as I could. Often with in 3 or 4 inches. Moving slowly I could even touch them from time to time. The lens I was using won't focus any closer than 3 or 4 inches so getting closer was just a waist of time.
I never was able to get a frog perched nicely on a lily pad like the first shot with my phone but I was able to get some decent shots. "Herding" the frogs here and there to trying to get them in a better angle or location. Many times they would jump away and splash into the pond and be lost. Other times however they would just move a bit and be in a much better position to be photographed.
Anyway, despite my low option of their mental capacity I have recently found that they make amazing subjects to photograph. Despite the dirt and mud, I've also found that the lowly frog can be a more willing subject to photograph than humans.
To learn more about the American bullfrog have a look at the two links below.