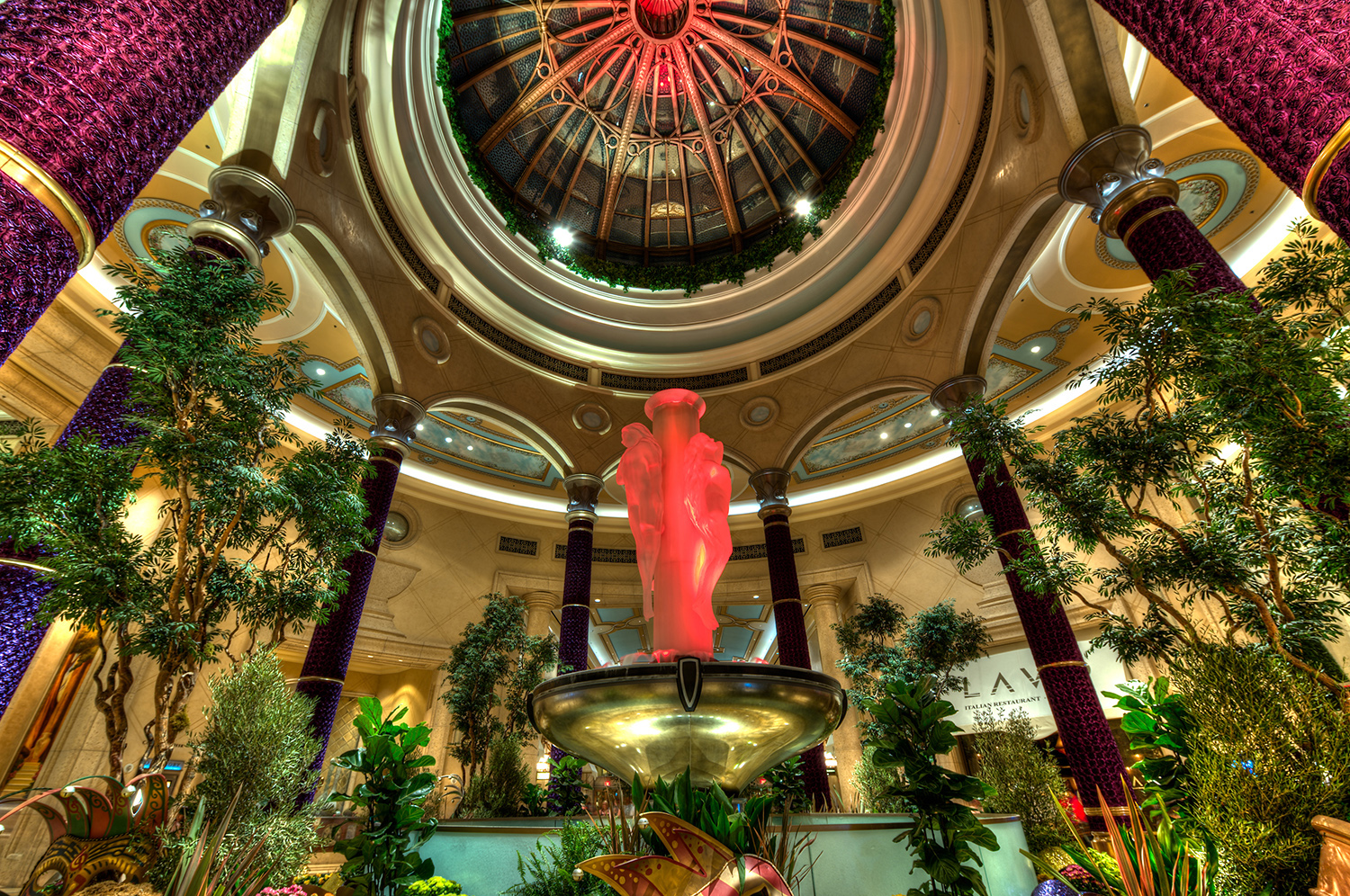 Las Vegas vacation anyone? I guess sooner or later everyone goes there but, in effect, it was my first time. I had of course been to Las Vegas on many occasions for work but it was the first time I'd ever done the tourist / vacation thing there. Because I'm not much of a gambler or for that matter even a partier I didn't think I'd be well-suited for the whole Sin City lifestyle. In the end however I did enjoy myself a lot more than I thought that I would. As you might expect I spent most of my time photographing different locations that were within walking distance of our room at the Palazzo. With that in mind I thought I'd share some of the photos from our trip.
This first photo is an image from our aircraft as we flew over the desert. Of course nothing could be more cliché than a window shot from a plane shot but I thought it was pretty cool so y'all just have to deal with it. Anyway, I was sitting there I noticed that we were flying over Monument Valley on the Arizona, Utah State Line. It's been at least 15 or 16 years since I've driven on US 163 through Monument Valley and it can be seen snaking through the valley below from my vantage point in the aircraft. Perhaps is not the most spectacular photo but I thought it was pretty cool.
Aerial View of Monument Valley
Photos of our Las Vegas Vacation
After our arrival to McCarran International Airport were picked up by a limousine and taken to The Palazzo Hotel on Las Vegas Blvd.
When entering the Palazzo the first thing you notice is a large sculpture and dome. It looks like a small rotunda that's in the main entrance. This dome is so impressive that I've actually included two photographs giving two different perspectives. You may notice that these photographs are HDR, or high definition range. I've never been a big fan of HDR. Well, it's more like I've never been a big fan of my own attempts at HDR but many of the photos included here today have been shot in HDR because of the dark moody environment. I also did a lot of shooting at night I wanted to capture as much detail as possible. Because of this HDR was really my best option.
Below will see another HDR photograph from the outside of the Palazzo. It was completed and opened for business in December 2008 at a cost of $1.6 billion. And along with the Venetian Hotel it stands on the grounds were the old Las Vegas Sands casino once stood.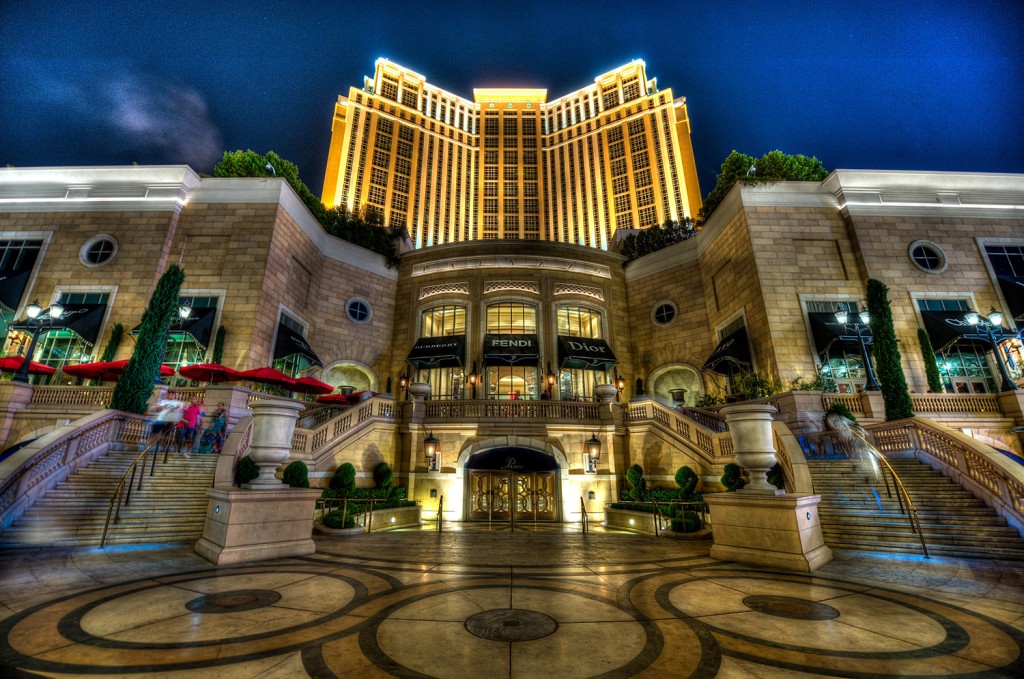 The Palazzo Las Vegas at night.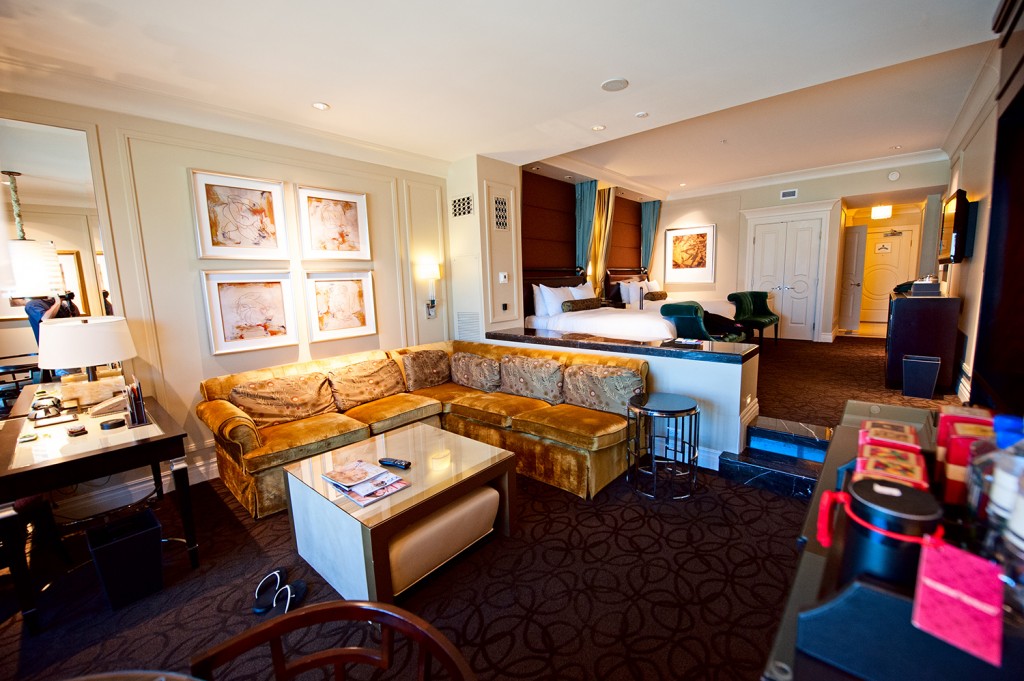 And our room at The Palazzo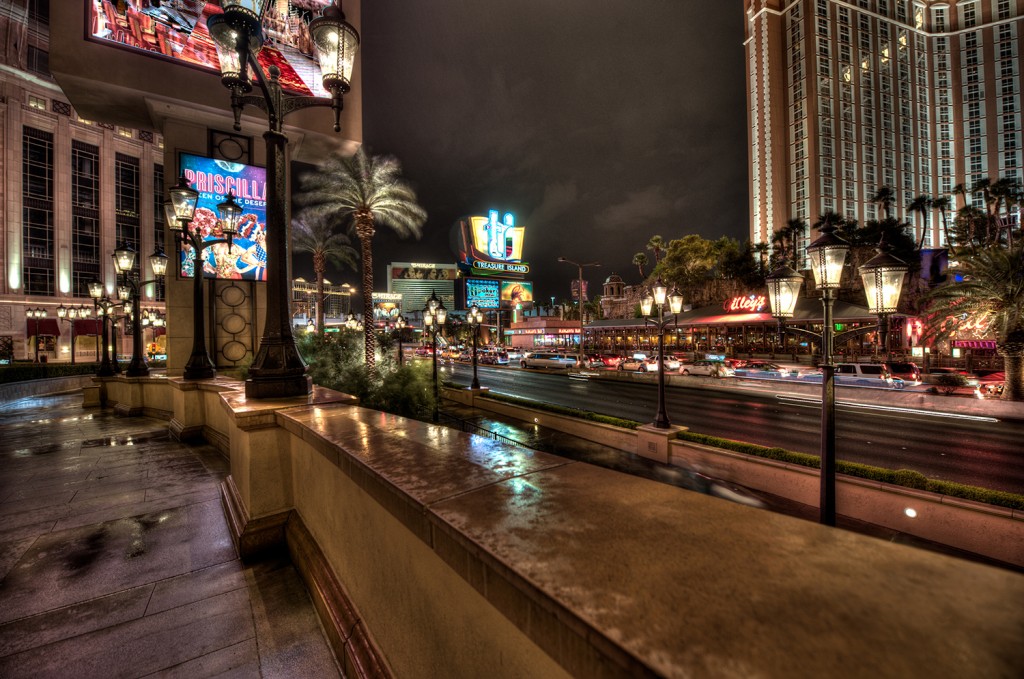 A rainy night at The Palazzo.
This summer the theme at The Palazzo and The Venetian hotels was Carnevale. Many actors and characters dressed up in costumes as they roamed the halls of the hotels as well as grand decorations throughout the hotel.

HDR shot of Carnevale decorations at The Palazzo in Las Vegas.
Photos of The Venetian
Although we stayed the Palazzo I also took many photos of it's sister hotel The Venetian. With its Grand Canal, gondolas and beautiful design the Venetian is a photographers paradise.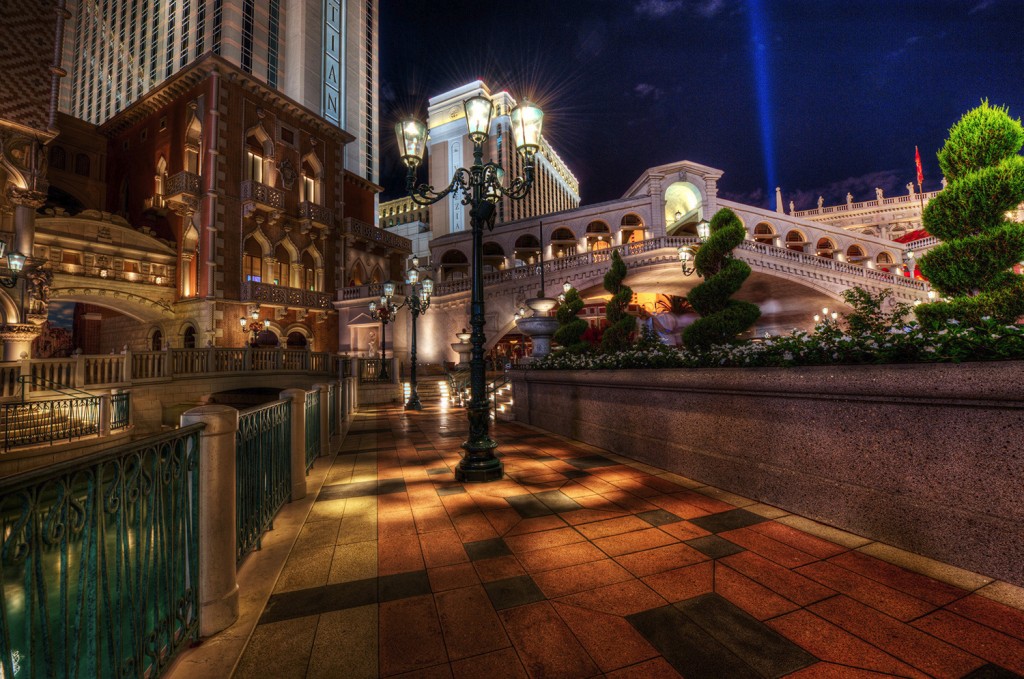 HDR of The Rialto Bridge at The Venetian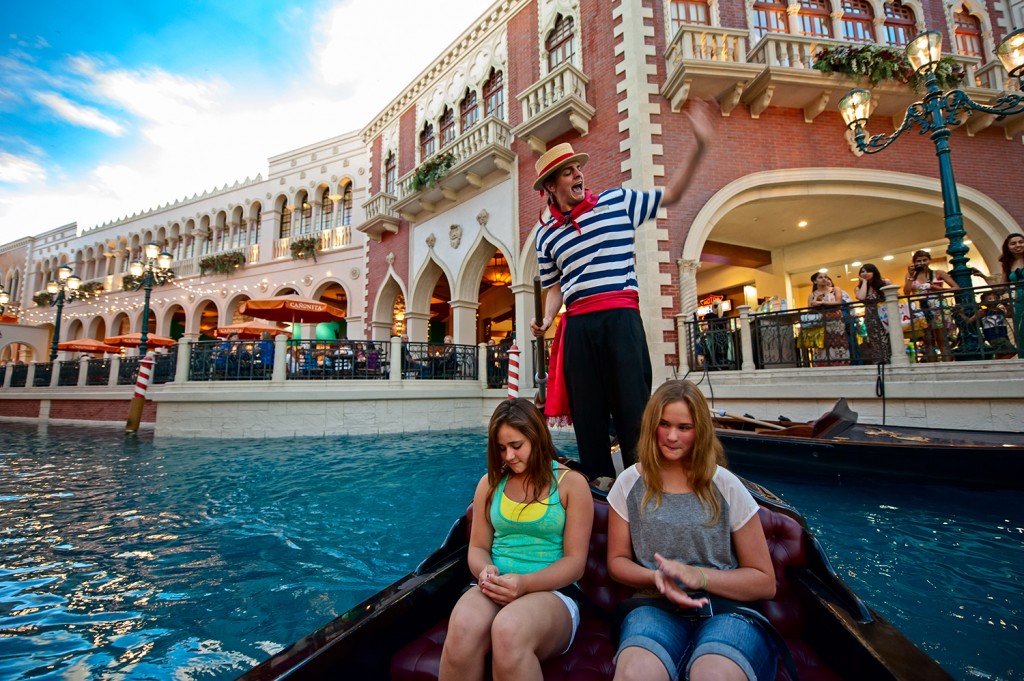 My daughters having soooo much fun on Gondola ride on The Grand Canal inside The Venetian. They actually did enjoy it but they were way too cool to allow anyone to see that they were.

The Grand Canal inside The Venetian.
Photos of The Strip

McNasty.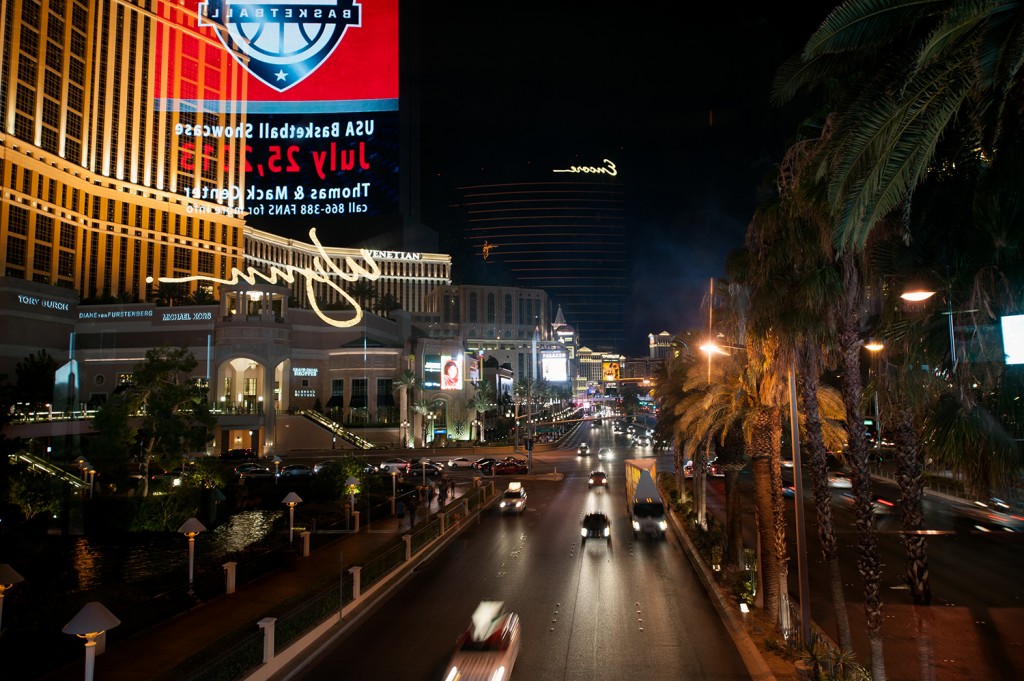 Las Vegas Boulevard at night.
Expedia's Las Vegas Vacation Travel Guide Video
Below you can view the Las Vegas Vacation Travel video by Expedia. It' a pretty neat little video. Be sure and check it out on YouTube
HDR Photos of our trip to the Grand Canyon while we were in Las Vegas
While we were in Las Vegas we also made a two day trip out to see the grand canyon where I shot a few HDR photos of the South Rim. If you'd like to read about the good and bad of that trip as well as see a few of the shots have a look at this link.