2013 Motorama
posts displayed by category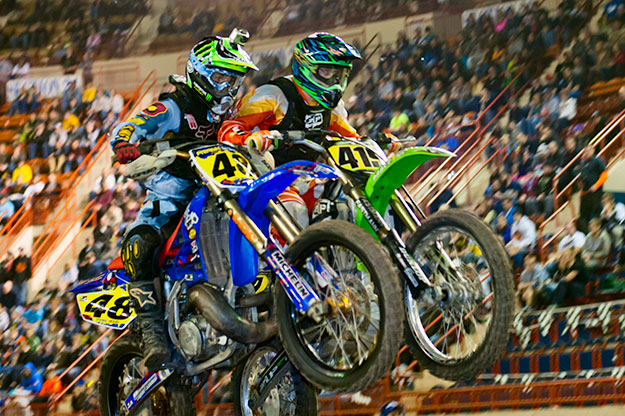 Feb 01 2013
For Photos of Motorama 2015
Update. For photos of Motorama 2015, the 37th annual motorama click here.
This is the place to come for photos of Motorama 2013. The 35th Annual Motorama, will be held February 16th – February 17th 2013 at the Pennsylvania Farm Show Complex, 2300 N Cameron Street, Harrisburg, PA 17110.
If you stumble across this page before the show starts February 16th please feel free to bookmark the page and come back either during or after the show to view the photographs. More galleries and categories will be added through out the event as needed. Primarily I'll be working the Ms. Motorama Pageant but will hopefully get a chance to photograph the other events as free time allows.
If you plan on attending Motorama this year be sure and say hi if you see me there. I'll be roaming from one end of the complex to the other and back again all day every day, all weekend long.
Important Information Update February 18th 2013 Post Event
If you came here during the show looking for photos of Motorama 2013 at The Pennsylvania Farm Show Complex I'm truly sorry that there weren't any galleries uploaded.
At 7:00 PM while I was literally in route to the Farm Show Complex for the pre-event meeting I got a call informing me that my role and the way I would be doing things had changed from what I had done for the previous 4 years. In the spirit of adapting and over coming I set out to complete the new task. Unfortunately the new roll did not allow me time to prepare and upload images during the event as planned.
I am now making my first selection of image files to upload. Because of the new assignment I have nearly three times the amount of photos to go through than I have had in previous years. I have also needed to change some, nearly all, of the categories that I have previously set up before the event. Many were added, some were deleted. Either way if you are here looking for photos of Motorama 2013 I hope you can find something that you were looking for.
Photos Motorama 2013 – Galleries Below
Arenacross
Main Arena – 507 Photos from First round of selection
Ms Motorama Pageant
The Crowning of Jannese Royer, Ms. Motorama 2013
Foundation 529
Foundation 529 Photos
Unfortunately I was unable to cover any of Foundation 529's activity this year as I had planned.
Motorama Greaser Girls
Photos Motorama 2013 Tunerwars
Photos Motorama 2009 – 2012
Photos from previous Motorama events.
Short Video From The Track at Motorama 2013
I shot this video with a small home video camera just for the fun of it while out on the track. It shows the photographer's perspective in the main arena at the Farm Show Complex.

The video above is very jerky as I was constantly turning and moving to keep an eye on the track. To be honest I wasn't in the mood to get run over. Jumping out of the way of a corning bike seems to be a content activity out on the track. I already have plans in place to get better video next year.
Adam Alexander of EA Photographics will also be shooting at Motorama 2013
Jan 09 2013
For Photos of Motorama 2015
Update. For photos of Motorama 2015, the 37th annual Motorama click here.
The new year always brings hope for new things. But in my case year after year it always turns my thoughts toward Motorama. I can't say why that is exactly. It'll cross my mind from time to time throughout the year but after the new year I seem to start thinking about it a great deal. Frankly I've never understood this but that's not really the point of the story.
The 35th Annual Motorama will be held Saturday February 16th 9AM-10PM and Sunday Febuary 17th , 9AM-5PM, 2013 at the Pennsylvania Farm Show Complex, 2300 N Cameron Street, Harrisburg, PA 17110.
Saturday Only Ticket: Adults – $22 | Kids (6-12) – $8 under 6 free
Sunday Only Ticket: Adults – $17 | Kids (6-12)- $8 under 6 free
Weekend Ticket: Adults – $37 | Kids (6-12)- $15 under 6 free
It seems to be a big week for the Farm Show Complex. I just wrote about it yesterday in my post about the 97th Annual Pennsylvania Farm Show. In February however, rather than an exhibition of animals and farm equipment, Motorama is the nation's largest all indoor motorsports event featuring one million sq feet of exhibition space.
Photographs of Previous Motorama Events
As it will be my fifth year photographing the event I thought perhaps I would share some images from the previous years. With that in mind I'll started out with a photograph arenacross, basically indoor motocross on a small very tight track. As Motorama is really all about racing it seems fitting  The photograph below was shot on the floor of the main arena while standing between the second and third jumps. I can assure you that it was one wild ride. There are motorcycles whizzing overhead both left and right. In the photograph below, shot with a 24mm wide angle lens, the motorcycle was flying overhead no more than 4 or 5 feet away.
For me last year, Motorama 2012, was especially thrilling. I was the first time I was given the opportunity to shoot the arenacross races from the floor of the main arena. In previous years my job has always been to work with and photograph contestants of The Ms. Motorama Pageant . Of course working with and being surrounded by beautiful women for two straight days certainly has its perks but there was a thrill about shooting arenacross from right down in the the dirt that simply can't be replaced.  On at least one occasion I had to jump out of the way to avoid being hit by a motorcycle that had careened off the first jump and crashed right where I was standing a split second before. The way I see it that's living! Capturing incredible moments and being there to get the shot is photography at it's best!
That being said, I am by no means a great sports photographer and have very little experience with it. I was extremely honored to have been given the opportunity to shoot the races. When I was on the track shooting the races and mostly after-the-fact when reviewing the photos I saw many mistakes that I could have corrected for. For me it was not only a thrilling experience it was an excellent learning experience and having been given the opportunity I now see ways that I can correct these problems to achieve much better photos in the future. I'm absolutely certain that just like other forms of photography the more I do it the better I will get.
With that being said not only The Main Arena but the Pennsylvania Farm Show Complex in general is a photographer's nightmare. It is often dark with horrible lighting conditions. You have to deal with many different types of light sources and color balances. These include incandescent, halogen, florescent and worst of all high-pressure sodium.
Other Events at Motorama
Besides the arenacross races, basically indoor motocross, Motorama has grown to become a huge event since it's beginnings in 1977. There are all kinds of events including various car shows. If you're into cars or motorsports of any kind you'll likely find it Motorama. Everything from monster trucks to top fuel dragsters. There are classic cars, TunerWars and even an antique fire truck last year. There are a Go-Kart races and radio controlled or RC races . There are games, activities and many different vendors.
My favorite shot from last year was a simple photo of one of the RC racers working on the suspension system of his RC car preparing for the the races ahead. This photo as snapped about 10:00 PM Friday the night before Motorama started. Year after year I walk around the Farm Show Complex late into the night photographing whatever interesting subject I might come across. Not only this RC operator but many of the entries and contestants from all the different areas are always up late into the night polishing and waxing cars, prepping motorcycles and quads. The vendors are preparing their stands and shops getting ready for the big weekend ahead.
I really can't say what stands out about the photo that I like so much but in truth I guess it's not so important. Perhaps is the shallow depth of field or the intricate touch of the man's fingers on the small parts of the suspension system. More likely, it's all of the above.
Each year there is a bikini contest on the Turnerwars side of the complex. As a rule I don't go to watch. It's usually a time for me to relax and and have an hour or an hour and a half to myself. Last year, however during Motorama 2012 I was asked to shoot the competition. The shot below is only a small portion of the crowd as seen from the stage that had gathered in this massive hall to watch this contest.
The Ms. Motorama Pageant
Despite arena cross races, RC cars, classic cars and everything else that goes on at Motorama my primary function year after year is to create a photographic document of the Ms. Motorama Pageant.
This event can be fun and hectic. Sometimes it can feel like all play and other times it can feel like more work than it's worth. The hours are long and the schedule is often grueling. Top it off by constantly escorting a bevy beautiful and often scantly clad women through such a crowded place as the Pennsylvania Farm Show Complex can present it's own set of unique challenges to say the least.
Challenges, long hours, crowds and unfavorable lighting conditions notwithstanding the reason I go back year after year is because, when it's all said and done, it's just good old fashion all-American fun!
The Incredible Ashley Drace
The first year for both Ashley and I was the Ms. Motorama Pageant 2009. Since then we have both returned year after year. Ashley is not only a stunningly beautiful woman she is an amazing person and more fun than you could imagine your wildest dreams.
Although Ashley was a contestant from 2009 – 2012 I come to understand that she will not be a contestant for the 2013 pageant but rather will be helping out and assisting the newer contestants. I also believe she has said that Motorama 2013 will be her last year.
If in fact Motorama 2013 is her last year neither Motorama nor the Ms. Motorama Pageant will be the same without her. Meeting her in getting to know her has been my pleasure and my honor. She will be missed!
Other Pages to Check Out
Motorama Events the official page
Pennsylvania Farm Show Complex & Expo Center
Ms. Motorama on Facebook
EA Photographics
Photos Motorama 2012 – Galleries from Motorama and Ms Motorama 2012
Me With Some Of The Girls at Motorama 2010
If you have never attend Motorama Consider coming out and attending at The Pennsylvania Farm Show Complex in Harrisburg, PA February 16-17, 2013. I'm sure you will have a blast. Swing by and say hello. Just look for any of the pageant contestents. The girls are everywhere and all over the Farm Show Complex all weekend and can most likely tell you where to find me.